Amber's Birthdays Parties

First Birthday! July 7th, 2001

My First Birthday Party!!! What fun we had!
Wow!!! Birthday cake and presents!
Amber
enjoys her first birthday party with her "brother" Scotchie. They had a great time at Terra Restaurant which is located in Hillcrest, San Diego. This restaurant is super dog friendly and even has a doggie menu.
Oops!!
Amber couldn't help but get frosting from her cake on her nose. It's just soooo yummy!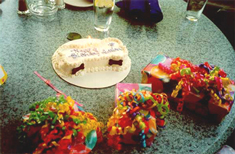 Amber's
birthday cake was shaped like a bone and came from the Paw Pleasers bakery also in Hillcrest, San Diego. Amber couldn't wait to open all her pretty wrapped birthday presents!